After my years in school (the schools before college) where Valentine's Day was, like, the biggest deal ever, I've been pretty bah humbug about February 14th. I never wanted a significant other to gift me overpriced roses, a stuffed animal, or chocolates. I never felt bad about myself for being single on Hallmark lover's day. And I gave up on going out to dinner about five, tasteless, overpriced Valentine's prix-fixes ago.
But last year in the midst of my struggle I hobbled out of bed and made the simplest little heart garland for JTS. It's tough being a nurse and I wanted to show him that I appreciated his constant help. It made me happy. It made him happy. It was SO simple even someone in bed for 22 hours a day could do it.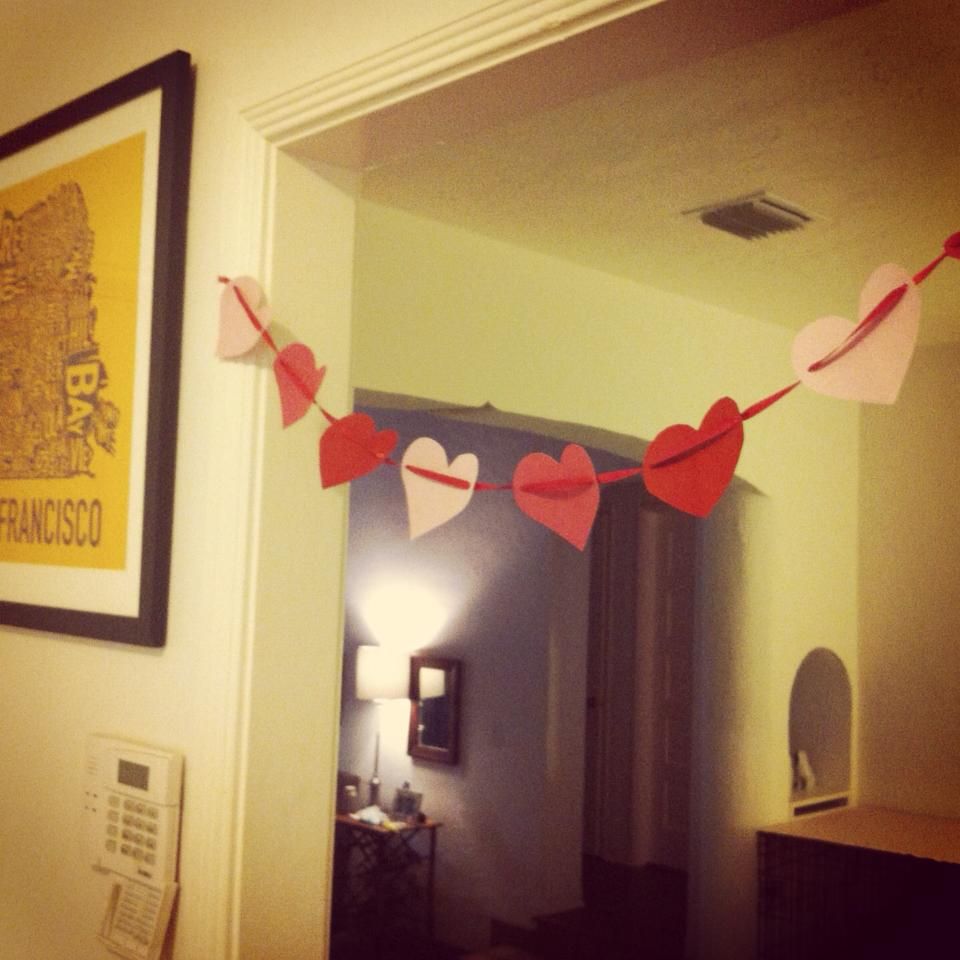 So I got to thinking (Yeah, I'm totally ahead of the curve on this one. Brace yourself). Valentine's Day doesn't have to be about
romantic
love but really it can just be a celebration of the ones you love - friends, family, children, and/or a partner. It's fun and fuzzy to take some time out of your busy non-loving year and show some love.
So in honor of showing some love - here is a delightful recipe for Valentine's Day cookies. These cookies are from an ex-boyfriend's mother's repertoire. They are so delicious that the Valentine's Day after we broke up I e-mailed him to ask for the recipe.
And then I made them for myself.
I carve them into hearts with a small knife (hmmm...that sounds dramatic but it's the truth) because I don't have a heart shaped cookie cutter. I find the cookies more endearing that way anyway.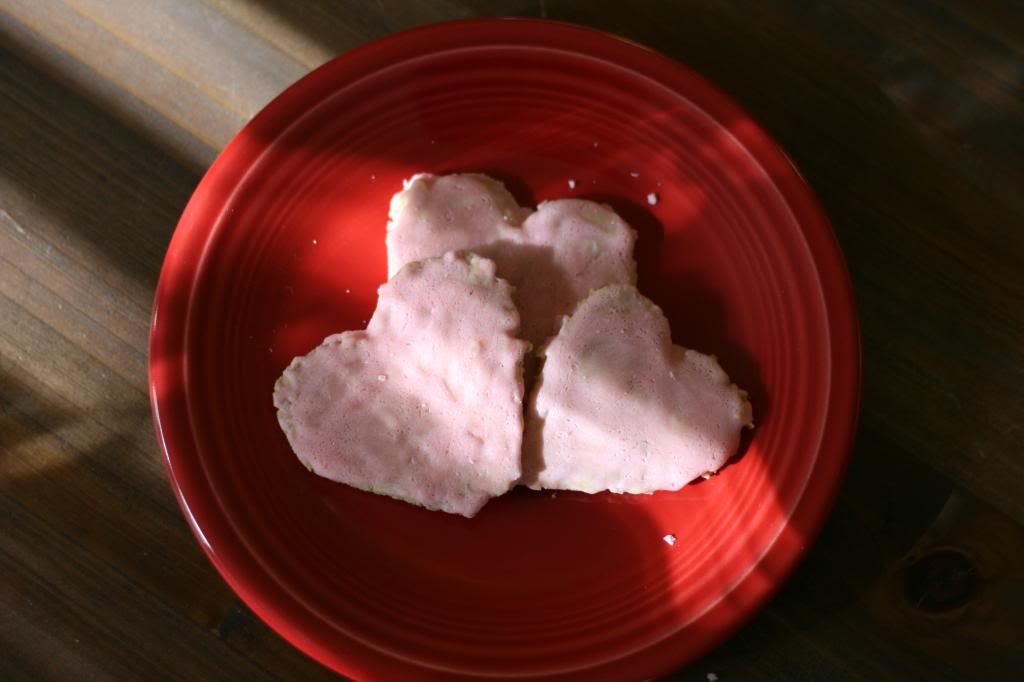 Valentine's Day Heart Cookies So Good You'll Ring Up An Ex
give these hearts away next year to everyone you love who doesn't have diabetes
Cookies
1 cup soft butter (2 sticks, but it sounds less as 1 cup)
1 cup sugar
2 eggs
1 teaspoon vanilla
1/2 teaspoon almond extract
2 1/2 cups sifted all-purposed flour
3/4 teaspoon salt
1/2 teaspoon baking powder
2 cups of rolled oats (quick or old-fashioned) uncooked
Beat butter and sugar together until creamy. Beat in eggs, vanilla, and almond. In a separate bowl sift flour, salt and baking powder together. Add to creamed mixture. Beat well. Stir in oats as evenly as possible and chill thoroughly (I've had success with 2 hours in the fridge, but they could definitely go longer). Roll out on a lightly floured surface to 1/4" thickness. Cut out into heart (here my ex-boyfriend wrote "or broken-heart") shapes. Bake at 350 degrees for 12-15 minutes. Note: These cookies are thin and on the harder side - they get the slightest bit golden brown. But not too much so be careful.
Icing
3/4 cup soft butter
4 cups sifted powdered sugar
(wasn't kidding about the diabetes - I cut this down to 2.5 cups and was fine)
1 egg white unbeaten
1 teaspoon vanilla
red food color / candy hearts
Beat butter till fluffy. Add 1 cup powdered sugar gradually. Blend in egg white and vanilla. Beat in remaining 1.5 cups powdered sugar. Add red food coloring to desired shade. Frost cookies straight out of the oven so it melts. Frost 2-3x for a thick coat. Add candy hearts, sprinkles, or cinnamon dots (Although after giving these out to everyone I loved this year I found out that cinnamon dots are very divisive).
P.S. Never fear, dear reader, this shan't become a food blog anytime soon. The reasons are simple. 1) I cannot cook (only a small cache of hand-picked items) and 2. I am a terrible photographer (see above). If you do like food blogs a real good one is
6inthemorningside
.